On-site Transparency Repairs & Mobile Support Team
While we service aircraft windows and windshields at our state-of-the-art repair facilities in Wichita, Kansas, we understand that shipping your damaged transparencies is not always an option.
We have a team of FAA-certified mobile repair technicians located throughout the U.S. who are ready to be dispatched on-site at your facility.
Repair Regions
Our mobile aircraft window repair technicians are stationed near:
Having technicians near multiple locations allows us to reach our customers anywhere in the world. No matter where your aircraft is, our aircraft window technicians are available 24/7.
Call us today at 1-316-636-9200 to schedule your repair.
Certified FAA/EASA Mobile Repairs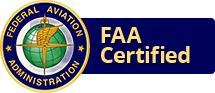 Lee Aerospace maintains certified FAA/EASA aircraft window mobile repair technicians across the U.S. We ensure that all aircraft window repairs go through a series of quality checks to guarantee window and windshield repair compliance with the aircraft manufacturer, air carrier and other applicable specifications.
Our A&P mechanics and FAA certified window technicians are able to repair and replace any aircraft window on-site for your AOG transparency issue. We promise a fast response time and high-quality workmanship.
All aircraft window repairs are returned to service with an FAA form 8130-3, logbook, or aircraft maintenance transaction report.
Aircraft Window Repair Technicians
Our technicians repair aircraft windows and windshields that are scratched, chipped, and damaged. Upon arrival, our technicians will perform a detailed inspection of your aircraft window and check for additional damage. We are experts in repairing and replacing windows, windshields, cabin windows and cockpit side windows.
Window Repair For Major Aircraft Companies
As an aircraft window manufacturer (OEM), we are well versed in aircraft window production. This is what makes Lee Aerospace your best choice for aircraft window repairs. We service Bombardier, Cessna, Learjet, Beechcraft, Hawker, Falcon, Dassault and other aircraft manufacturers.
Contact an aircraft window repair mobile technician near you by calling 1-316-636-9200 and inquire about repairing your aircraft windows, windshields or transparencies.