Since 1989, Lee Aerospace has manufactured windscreens and cabin windows for the most respected aircraft manufacturers in the industry. Since then our expertise has grown from OEM transparency manufacturing, to include aircraft lenses, sun visors & inner window assemblies. Our skilled labor pool is unrivaled anywhere in the world, which is why almost every new aircraft that is built in Wichita leaves the factory with Lee Aerospace transparency's installed. From proof of concept to final production, Lee Aerospace is adept at FAA certification and prepared to provide turnkey design, engineering, certification and testing services.We have multiple FAA Designees available who support component certifications as well as engineering data approval for production, STC, TC and PMA activities. Our abilities are not limited to business jets; we are able to design and produce for special mission aircraft capabilities to custom designed windows for off shore power boats. We have you covered from air to sea.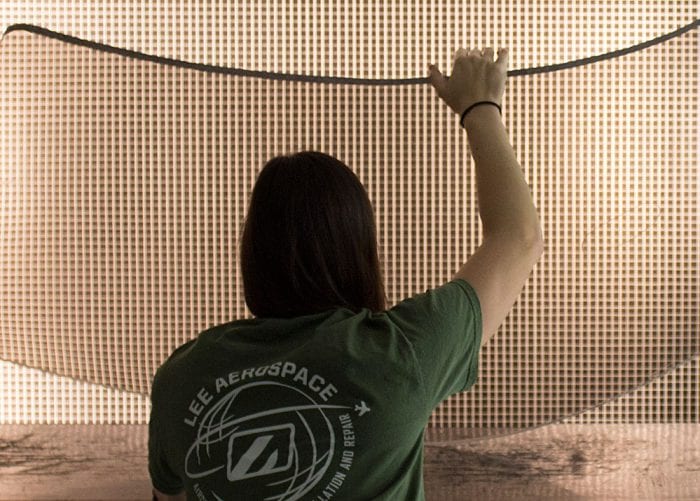 Hawker Beechcraft Windows
Baron & Bonanza – windshield and cabin windows
King Air Series – all windows including CoolView™
Premier I and Hawker 200 – cabin windows
Beechjet/Hawker 400XP – cabin windows and side cockpit windows
Hawker 750, 850, and 900- cabin windows
Hawker 4000 – cabin windows
Hawker Horizon – sun visor
Hawker 400XP – wing tip lenses
Cessna Aircraft Windows
All CJ models – cockpit and cabin windows
Mustang – cabin windows
Mustang – sun visor
XLS – cabin windows
Sovereign – cabin windows
Citation Ten – cabin windows
Longitude
Latitude
Bombardier Learjet Windows
Lear 40 and 45- cabin windows
Lear 60- cabin windows
Piper Aircraft Windows
Meridian
Malibu
Matrix- side cockpit and cabin windows
Mirage
HondaJet Windows
Cabin windows
Skyview windows
Boeing/Columbia Helicopter
767 Tanker Observation windows
Aircraft lenses, covers, sun visors
The Spaceship Company Windows
Custom Windows, Windshields and Transparencies
Lee Aerospace is a world leader in manufacturing highly durable windows, windshields and other transparencies for major aircraft companies around the globe.
We've recently spread our wings into other high-speed industries including watercraft and aerospace. If you're looking for a custom window or windshield for your high-speed racing boat or spacecraft, contact us for more information.