Lee Aerospace aviation composites manufacturing is housed in a modern 40,000 square foot facility.  We are one of the industry leaders in the manufacture of aircraft composite production parts and tools. Customers include Boeing, Cessna, Bombardier, Learjet, Gulfstream, HondaJet and others.  Composite parts are manufactured using autoclave or oven cured prepreg or wet lay-up materials such as carbon fiber, fiberglass, graphite, Kevlar and other aramid polymers.  Resins systems include epoxy, polyester and phenolic.  Lee Aerospace produces solid laminate composite parts and composite sandwich structures using Nomex, fiberglass and aluminum honeycomb core as well as many types of foam core.  Lee Aerospace is NADCAP  accredited for composites, aerostructure assembly, and NADCAP Measurement/Inspection.  Lee Aerospace Quality Management System is ISO9001:2015 / AS9100D certified.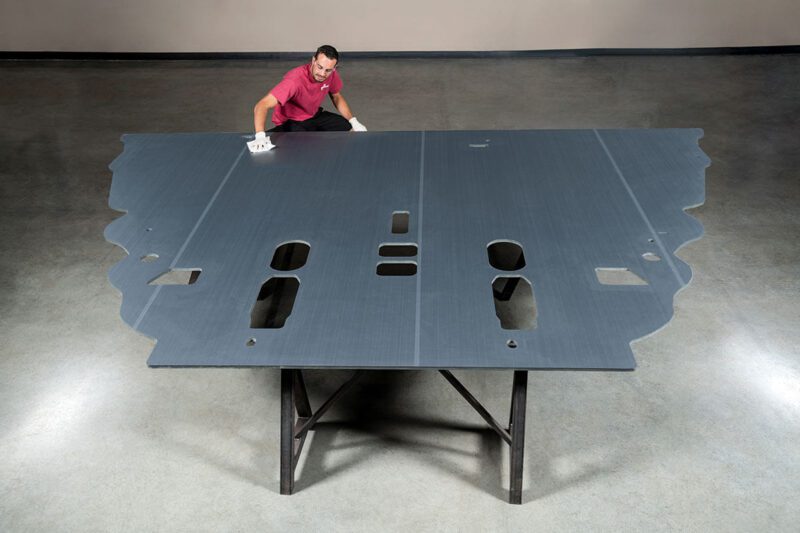 We build composite parts using an existing design, modify a design, or design a composite tooling solution. Combining production parts and tooling, all within the same company, simplifies and speeds up the part and tooling development process.  Some of the current aviation composites services at our facility include:
Fiberglass ECS ducting
Carbon fiber system bracket attach panels
Phenolic interior panels- sandwich structure using foam core
Carbon fiber laminate window retainers
Carbon fiber laminate with fiberglass sandwich structure floor boards
Carbon fiber aircraft window seal surround closeouts
Prepeg and wet layup carbon fiber and fiberglass layup molds and trim tools
At Lee Aerospace, our composites facility uses the latest technology and equipment for the production of aviation composite parts and control of composite time and temperature sensitive materials.  All of our equipment is computer controlled and monitored for traceability as well as documentation purposes.
Aviation Composites Manufacturing Equipment & Facilities
A Class 400,000 (ISO14644-1 Class 8.6) Controlled Contamination Area (CCA) which is temperature, humidity and positive pressure controlled
12′ x 32′ autoclave capable of 500°F and 150 psi
12′ x 10′ x 35′ oven capable of 500°F
In-house NDT – Responsible Level 3
Temperature controlled paint booth
Test lab for composite materials and processes
Secondary bonding for structural components
Walk-in composite material freezers: 8′ x 8′ and 20′ x 20′
Composites material testing laboratory
Six laser projectors used for accurately locating ply layout sequences
Two automated ply cutters for cutting ply material
Laser Trackers and two portable coordinate measuring arms for precisely measuring parts
Composite trim shop with filtered air to remove composite dust
3-axis and 5-axis NC machine for trimming parts, core and building tooling master molds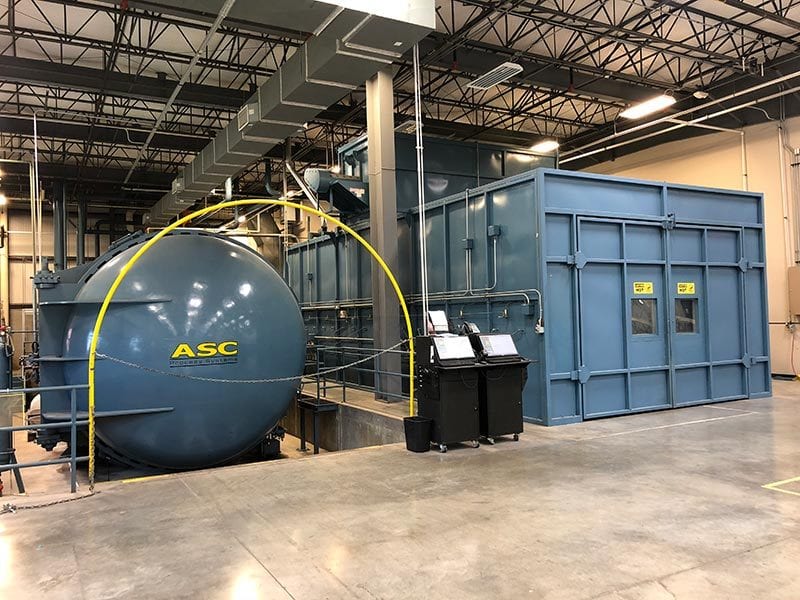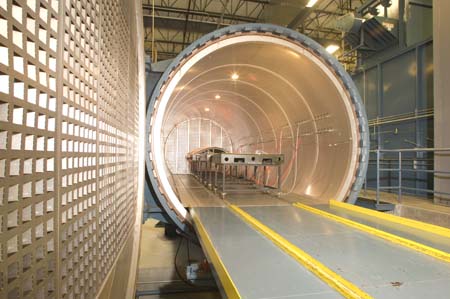 Aviation Composite Autoclave
Our 12′ x 32′ aviation composite autoclave is a high pressure vessel used in the manufacture of composites requiring high pressures and heat. Our performance aerospace parts benefit from our access to trained personnel, the right materials and a top of the line production facility. Through our production facility we can produce components that are designed and require complex shapes to be able to handle isostatic pressures.
Our technicians are highly trained in the use and safety of creating custom and OEM components for many aviation and aerospace uses. Additionally our autoclave has to meet rigorous safety standards set by the ASME Pressure Vessel Code and our team meets all the licensing requirements related to Aviation Composite Autoclave operation.