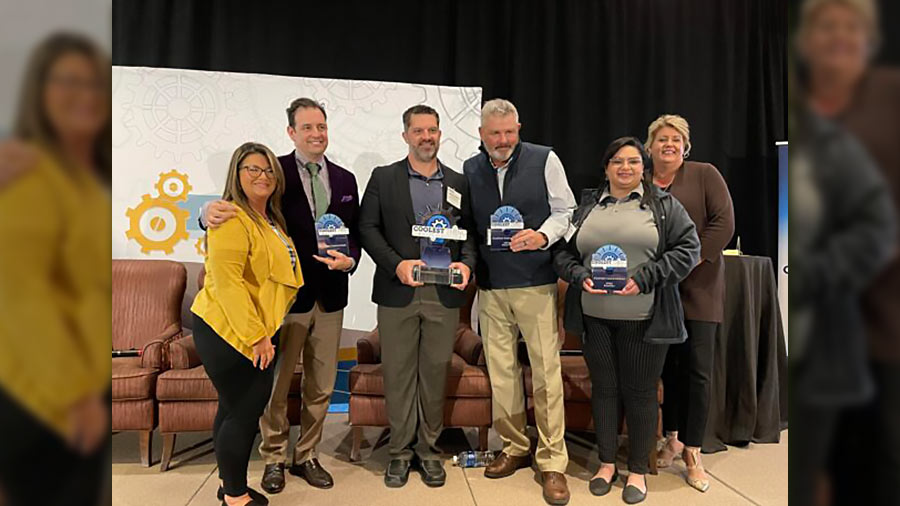 (L to R) Brandie McPherson, KMC; Joe Pennington, Stevenson Company; Jeff Broomhead, Lee Aerospace; Jeff Hess, APEX Stages; Aidyn Medina-Lopez, Ronawk; and Jennifer Wold, FORVIS.
The CoolView Aircraft Window built by Lee Aerospace in Wichita is the winner of the 2022 Coolest Thing Made In Kansas – Coolest Innovation.
This year's KMC featured a new contest category, sponsored by FORVIS, to highlight the various ways Kansas manufacturers conduct research and development.
The Kansas Manufacturing Council (KMC) announced the winner. The announcement was made at the Kansas Casino and Event Center in Mulvane during KMC's Kansas Manufacturing Summit.
"The KMC is excited to celebrate the CoolView Aircraft Window as the 2022 Coolest Innovation," said KMC Executive Director Brandie McPherson. "Our panel of judges had a very difficult job in narrowing it down from the 40 products nominated to just one."
During the final round, the four companies made presentations about their innovations. The judges choose the winning product based on a criteria that includes its impact on the challenge it solves as well as the impact it has on the business, its employees, and customers.
"The team is honored to be chosen for the 2022 Coolest Innovation. As the industry leader in the manufacturing of aircraft composite production parts and tooling, being innovative is an important part of our company's culture," said Lee Aerospace President Jim Lee.
Lee Aerospace showed off the cool thing made called the CoolView Aircraft Window. The window keeps pilots and passengers cool while flying.
"We have a lot of scientists and pilots that actually work here, and so the industry has been asking different ways to cool off aircraft, and we thought we got the perfect product here with our vapor deprivation chamber, and we come up with CoolView," said Jim Lee, president of Lee Aerospace.