2015 – March 10th  〉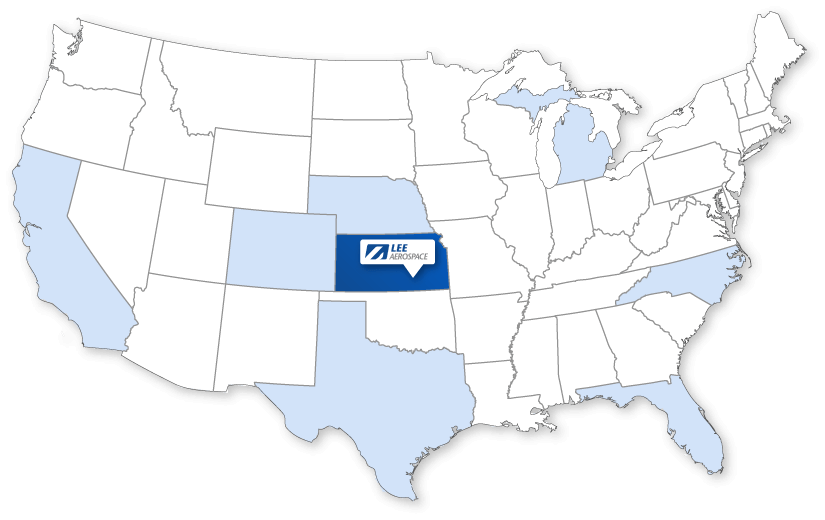 Lee Aerospace Expands Texas Repair Station
WICHITA, Kan.  (March 10, 2015) – Lee Aerospace Aftermarket division is pleased to announce expansion into the Texas region.  As part of this expansion, Lee Aerospace has added dedicated technician located in San Antonio, Texas ready to support customers in this area.
"We would like to welcome Robert Allen back to the aftermarket team. He brings with him 9 years of window maintenance and installation experience. Lee Aerospace is lucky to bring him on board as part of our Repair Station," said Greg Piland, General Manager of the Repair Station.
As an experienced A&P mechanic and inspector in aircraft windows, Mr. Allen recently spent the last 4 years working with Cessna Citation Service Center. At Cessna he was able to gain valuable experience working with multiple Cessna airframes.
Mr. Allen was previously part of the Lee Aerospace (formerly Triumph Aerospace Systems – Wichita) team from 2005 until 2009. In his role as A&P technician, Mr. Allen will be serving the San Antonio and Texas market.
Lee Aerospace Repair Station
The Lee Aerospace Repair Station specializes in the inspection, repairs, and installation of aircraft windshields and windows. The aftermarket team has locations throughout the United States, and is available to meet a customer's aircraft at their location. The Repair Station operates under an FAA Repair Station YLIR863L / EASA 145.4630 certificate. Lee Aerospace Repair Station believes in providing quality maintenance and getting customer aircraft back into service with minimal downtime. https://leeaerospace.com/repair-station/
###
About Lee Aerospace
Lee Aerospace is Headquartered in Wichita and was founded in 1989 by owner and President Jim Lee.  Starting as a small production facility, building Cabin Windows for the Boeing 737/757, Lee Aerospace has grown through the years to include advanced aerospace transparency design as well as repair and installation, aerostructure assemblies and composite manufacturing programs, for some of the largest aircraft manufacturers in the world.
Transparencies:  Offering turnkey solutions from concept through production.  Currently, the window OEM for major aircraft manufacturers such as Cessna, Beechcraft, Bombardier Learjet, Hawker, Honda and others.  Lee Aerospace holds Parts Manufacturing Approvals (PMA) for replacement windows; windows that meet or exceed the original aircraft manufacturer's specifications.  Newest program includes the production of heated windshields.  Lee Aerospace sells replacements windows direct for the following models:  Beechcraft, Bombardier, Challenger, Cessna 441, Gulfstream, Falcon, Hawker, and Learjet
Services:  As the industry leader in transparencies, Lee Aerospace's qualified and FAA certified technicians can inspect every aircraft window, and provide an expert, detailed evaluation on the condition windshield and windows.  Certified technicians can install new replacement windshields and windows on-site, using factory authorized equipment and adhering to OEM specifications.  Lee Aerospace has a Global presence and has technicians located throughout the United States, to respond quickly to customer needs; repairing, or installing windshields and cabin windows, to meet the schedule demands.
Aerostructures:  Lee Aerospace manufactures sheet metal assemblies for the most respected aircraft manufacturers in the industry.  As a certified and FAA approved facility, adhering to the most stringent quality control standards throughout the organization.  Its aerostructure facility is capable of building small bench top assemblies to large pressurized and non-pressurized fuselages, managing multiple programs with multiple production rates and customer requirements, delivering world-class quality.
Composites:  Lee Aerospace's Composite Manufacturing program is housed in a 40,000 square foot facility.  Customers include:  Boeing, Bombardier, Cessna, Gulfstream, HondaJet, Learjet and others.  Its composite parts are manufactured using autoclave or oven cured prepreg or wet lay-up materials like carbon fiber, fiberglass, graphite, Kevlar and other aramid polymers.  The Composite Shop uses the latest technology and equipment for the production of composite parts and control of composite time and temperature sensitive material.