PAMA Maintenance Symposium
Have you ever wondered what the proper maintenance procedures are in maintaining your aircraft windshields and windows?  A great place to get your questions answered will be he 13th annual First State Chapter PAMA Maintenance Symposium.  The Symposium will be held Saturday, February 7th, 2015 at the Deerfield Golf & Tennis Club.
Deerfield Golf & Tennis Club

507 Thompson Station Rd

Newark, DE 19711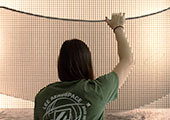 Lee Aerospace is excited to be presenting at the PAMA Maintenance Symposium.  Greg Piland, General Manager of the Repair Station, will present on the topic of, Aircraft Window Maintenance and Inspection.  The presentation will start at 8am, and Greg will leave time afterward for any window maintenance questions you may have.  As part of our commitment to continued training for aircraft maintenance professionals, Lee Aerospace is proud to present alongside industry leaders in educating maintenance professionals in their quest for their Inspection Authorization (IA) Renewal.
PAMA (Professional Aviation Maintenance Association) promotes a high degree of professionalism among aviation maintenance personnel through communication, and education. You can find more information on PAMA here; for a list of upcoming shows Lee Aerospace will be attending, please click here.