Duncan Aviation Open House
Celebrating the Newest Maintenance Hangar in Lincoln, NE
From incoming inspections, to the installation of countless windshields and cabin windows, Lee Aerospace and Duncan Aviation have had a strong partnership spanning over 15 years.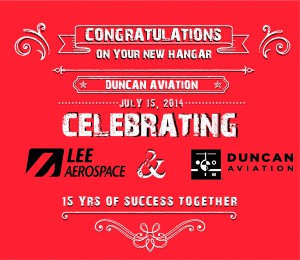 Open House on July 15th, 2014
To celebrate, Lee Aerospace will be on-site July 15th, 2014 for the Duncan Aviation OPEN HOUSE, commemorating the newest maintenance hangar complex at the Lincoln, Nebraska, facility.  You will be able to spend the day at Duncan, touring the new facility, attending informational sessions and visiting vendor displays (including the Lee Aerospace display).  The day will conclude with an evening of celebration, including:  food, drinks, music, and great conversation.
Ground Breaking
During the Fall of 2012, ground was broke on Duncan's largest construction expansion project located at their headquarters in Lincoln, Nebraska. The newest hangar compromises a 175,000-square-foot with two 40,000-square-foot maintenance hangers and a 95,000-square-foot office and shop space. The addition provides more shop and work space for services that cover business aircraft.
For more information on Duncan Aviation please click here.